Pharma Franchise for Ophthalmic Product- Ophthalmic drug segment is widely used for treating a number of eye-related problems. These drugs have immense demand in the market due to the increasing cases of eye problem in hospitals. Thus, pharma industries are under pressure to deliver bulk quantity range of Ophthalmic Product. To reduce this competition, we have come up with the Pharma Franchise for Ophthalmic Product.  At Biophar Lifesciences, we are providing all type of Ophthalmic range at reasonable prices.
The market for ophthalmic drugs range is multi-folding expanding with time. Our company is capable to deliver all type of Ophthalmic product range to our esteemed customers. Since our commencement, we have been improving our skills and moving towards the expertise. We have built a sophisticated infrastructure unit in our company that helps us to deliver the quality products to our customers. By delivering this particular drug range, we have become the profound Pharma Franchise for Ophthalmic Product.
So do not miss the golden opportunity to become the leading players. Joint hands with the best pharma franchise company Biophar Lifesciences by connecting with us through  +91-9216599595 or email at biopharls@gmail.com.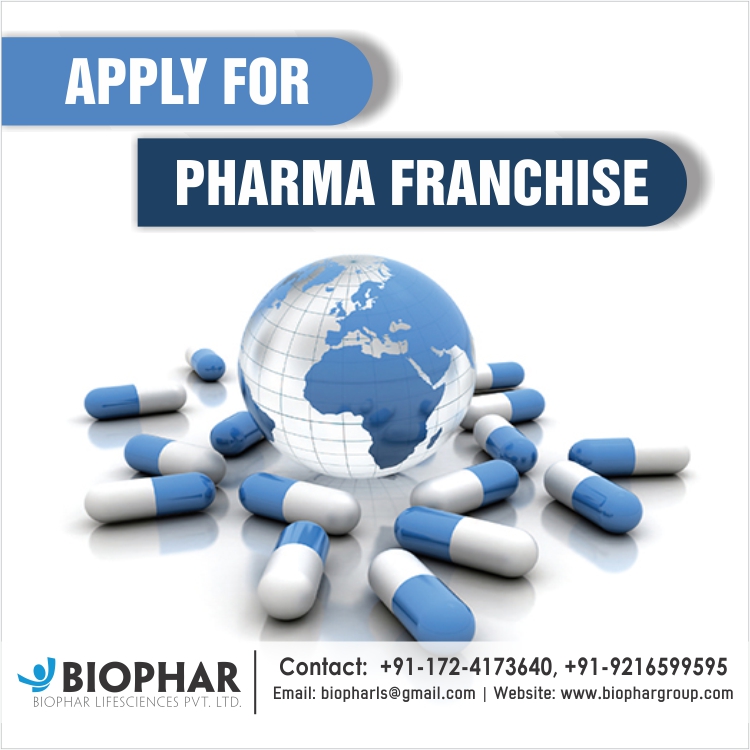 Joint hands with Top Pharma Franchise for Ophthalmic Product
Our company is the old player of this business sector. We work on strict business ethics that helps us to render the best ever service to our customers. We have around 190+ staff member in our company, who are proficient in executing their work with full efficiency.  Being expertise in our business sector, we help our associates to grow effectively. We apply best ever effective marketing strategies and tools that can bring the company to the top of other pharma firms. We have become the prominent firm by doing the following things:
Maintaining good links with distribution channels and logistics
Making the on-time delivery of products
Building sophisticated infrastructure facility at premises
Backed by leading professionals and team of experts
Ability to deliver the germ-free range of drugs
Our offered drug range is free from side effects
What is the demand for Ophthalmic Medicines in India?
There is the number of blind peoples in India, who are the under treatment. Thus, they required a variety of Ophthalmic Medicines for completing their treatment. This is the first and foremost reason for the rising demand for Ophthalmic Medicines amongst people. The total market size of the ophthalmic market size is around USD 1.4 billion. Even it is expected to increase more. The pharmaceutical market is intended to increase more in upcoming 2021. Below is the reason for the rising demand for Ophthalmic Medicines in the market.
Due to the increasing awareness of quality drugs amongst people
Growing incidents of myopia amongst people.
Due to the increasing standard of Middle-class families.
Increasing population is another major factor of increasing demand for Ophthalmic Medicines
We match the international quality standard at PCD Franchise Company
Our all the fitted machinery are known for delivering the best quality range of drugs. We have maintained separate quality department in our company, which is well-supervised with the reliable quality checkers. All our offered drugs are thoroughly checked on many quality parameters before introducing in the final market. We have maintained certain quality parameters in our company such as:
Purity
Effectiveness
Reliability
Efficiency
Composition
Our quality checkers are highly proficient in detecting the flaw in any drug range. Whenever they finds any flaw in the product they immediately send it to the manufacturing department. Overall, we primary focus on the quality of our products.
Variety of Ophthalmic Medicines range provided by Biophar Lifesciences
We have a long list of medicine and drugs that are used for caring the eyes. Below are the name of drugs that we are offering to our esteemed clients:
Eye drops
Ointments
Lubricate
Eye wash
Eye care products etc
All our offered drug range are available at reasonable prices and at premium quality.
Requirements to take up Pharmaceutical Franchise Company
If you are serious about taking up pharma franchise then you should satisfy the following eligibility criteria:
You must have valid Drug license and TIN Number to take up the Pharma Franchise
A domain should have a sufficient amount to invest
You must have completed 12th standard or SSC or graduation from any recognized board or university
If you are into this business sector then you can give us call to know how the franchise company works. Below are the contact details of our company. With the help of our immense experience and expertise, we are capable to provide you the right information about pharmaceutical sector.
Contact Information
Name –  Biophar Lifesciences
Address – #34, first floor. Raipur kalan Chandigarh 160102
Phone: +(91)-(172)-2730034
Mob: +91-9216599595, 9988195950
Email:  biopharls@gmail.com