Top Pharma Franchise Company in India – Biophar Lifesciences has been serving the healthcare and pharmaceutical industry since a long time. We are Chandigarh based ISO Certified top pharmaceutical company that engaged in the manufacturing, trading marketing, and exporting of pharmaceutical drugs. The Company excels in manufacturing the high-quality drugs in the categories like Tablets, Capsules, Syrups, Dry Syrups, Injections, Ointments, Soft Gel Capsules and Sachets and a lot more. We are the top pharma franchise company in India that also deals in PCD Pharma Franchise business. We are offering Monopoly based pharma franchise opportunity in all over India. We provide the WHO certified products, promotions tools, high-profit margin to our pharma franchise partners. That's why we come in the list of top pharma franchise companies in India.
Biophar Life Sciences provide the extensive business opportunity to the pharma professionals by offering its excellent PCD Pharma Franchise to start own business. We are the top pharma franchise company in India that is welcoming all pharma distributors & Medical Representatives for PCD pharma franchise.  If you have any query regarding our pharma franchise kindly Call us +91-9216599595 or email at biopharls@gmail.com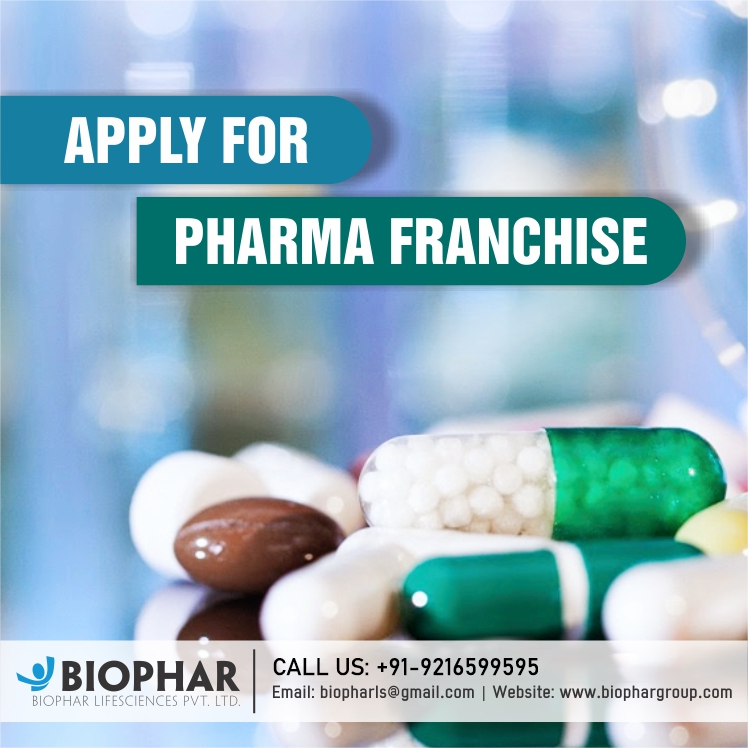 Top Pharmaceutical Company in India – Biophar Lifesciences
Biophar Lifesciences Pvt Ltd is an ISO 9001 certified pharmaceutical company. The company is headed by Mr. GULSHAN RAWAT ( Managing Director) who has rich experience of more than 16 years in the pharma industry. We are a result oriented pharmaceutical company in India and have product portfolios that cover all major therapy area including anti infective, Nutritional supplements, Gastrointestinal, pain management, cardiovascular & diabetes, Dermatology, urology and central nervous system(CNS).
Using World class manufacturing facilities at Himachal Pradesh, Biophar Lifesciences PVT. LTD. is all set to meet upcoming challenges in the field of healthcare. A Highly qualified and devoted workforce has always been an asset to the company. So we are known as the top pharmaceutical company in India.
Our Monopoly Pharma Franchise Opportunity
Biophar Lifesciences is the Top pharmaceutical companies that deal in PCD franchise, pharma franchise business. We are offering a monopoly based PCD pharma franchise opportunity in all over India. Under our expansion plan, we are searching for pharma franchise/ business partners/ Distributors from financially sound unrepresented states/ districts of India.
Opportunity for Medical Representative, Area Sales Manager & other experienced from the same field.
Free Promotional Tools are included in Our PharmFranchisese Plans.
All Products & WHO & GMP Certified
Attractive packing & competitive price
Offer Monopoly Rights
No Largest Sale target
How the Biophar Lifesciences Support to it's Pharma PCD Franchise Associates?
Biophar Lifesciences GMP certified pharmaceutical company. This is the top pharma franchise company thus, the company ensure that all its associates get the best support nd services in order to grow their business. The Company provides good support to the franchise partners so that they can start their business in a right way. Biophar Lifesciences is committed to providing the accessibility of high-quality formulation to the people and quality PCD Pharma Franchise business support to its associates.
Mentioned below are the ways through which we support our associates:
Monopoly Rights – Biophar Lifesciences provides the unique monopoly rights with the help of which our pharma franchise partners can increase the sale in their area. These rights will allow you to work individual in your territory with low competition.
Marketing and Promotional Backup – We have an excellent marketing team, this team makes the effective marketing strategies to support the pharma franchise partners. Our associates are not required to spend anything on promotions and advertisements. The Company provides the promotional backup by providing the kits that include the tools like:
MR Bag
Visual Aids
Catch Covers
Biophar's Unique Product Description
Leave Behind Cards
Product At A Glance
Visiting Cards
These tools are not only helpful in promoting the products but also helps in reducing the competition in the market. Apart from this, it will help our partners to make a good impression in doctors' chamber. Our associates will get these tools along with the monthly promotional schemes.

Quality Ensures of Pharma Products at Biophar Lifesciences
Biophar Lifesciences offers the wide range of products that are manufactured in the high-tech production unit. Our products are well certified by WHO and GMP. Biophar Lifesciences is ISO 9001:2008 certified Thus, our products are safe to use and best of quality. Biophar Lifesciences with the help of its research and development team regularly introduce new and innovative products. The formulations that we provide comes with the lesser side effects. So the quality ensure of our pharma products make us a top pharma franchise company in India.
We provide best quality assurance for all our products. We have quality assurance team this team keeps a good check on the quality of products at every level of manufacturing. The Company ensures to use the best quality of raw material for the manufacturing of the formulations.
Biophar is supported by the infrastructure and technology when it comes to providing the best quality products. The Company provides the drugs that match the international manufacturing facilities. Our products match the quality perimeters like purity, safety, and effectiveness.
Our Pharma Products Portfolio
We manufacture the more than 1000 products which are manufactured under advanced technology and strict check of the quality assurance team. Our all products are GMP & WHO Certified. To find the price of our products you find the product Quotation Form.
Pharmacutical Tablets
Capsules
Cream
Dry Syrups
Eye Drops
Injection
Syrups
Facewash
Lotion
Ointment
Powder
Apart from this company keeps on introducing new and innovative range of medicines in the market for unmet need of patients. Our team of experts provide us with the new and innovative products on regular intervel of time. Be our business associates and get the exclusive range of variety drungs with in your budget. Biophar Lifesciences ensures to deliver high quality medicine.
Why Choose Biophar Lifesciences for PCD Pharma Franchise Business in India?
Biophar Lifesciences is top pharmaceutical company in Indina that understands the needs and requirements of the industry in many ways, that's why we provide the unique and extremely beneficial services to our associates. The company is involved in the ethical business practice of the PCD Pharma Franchise business. Not only this, the company provide you the best advice to get success in th9is industry.
Here, mentioned below are some of the best reasons for choosing us for PCD Pharma Franchise business:
The Company always have 100% availability of stock of products which help our associates to meet the requirements of customers.
Within 24 hours of receiving your order, the products will be dispatched from the company.
The company offers the wide range of 400 formulations which provide the huge option for you to choose the product that you want.
Manufacturing at the excise free zone allows us to provide you with the competitive prices.
Biophar Lifesciences deals transparently with all its associates. We keep our associates well informed with the everything they want to know.
We keep our partners well informed with all latest launched and developments in the pharmaceutical sector through the new letters.
Our team of experts will solve all your queries online regarding anything you want to know about PCD and Pharma Franchise business.
The Company regularly introduce new and innovative molecules according to the requirements and changes in the industry.
Our Pharma Certifications
Biochar Lifesciences is ISO Certified pharma company that has got the GMP (Good manufacturing practice ) Certifications & WHO ( World Health Organization ) Certifications. And, our all products are DCGI (Drug Controller General of India) Certified.
Our Target States in India For Pharma Franchise Business
Biophar is providing its Pharma Franchise/ PCD Franchise district-wise with unique monopoly and distribution rights. We are looking for District wise PCD Pharma Franchise in following State:
Andhra Pradesh
Arunachal Pradesh
Assam
Bangalore (City)
Bihar
Chandigarh
Chhattisgarh
Delhi
Goa
Gujarat
Haryana
Himachal Pradesh
Jammu and Kashmir
Jharkhand
Karnataka
Kerala
Madhya Pradesh
Maharashtra
Manipur
Meghalaya
Mizoram
Nagaland
Odisha(Orissa)
Punjab
Rajasthan
Sikkim
Tamil Nadu
Tripura
Uttar Pradesh
Uttarakhand
West Bengal
Contact Information
Name – Biophar Lifesciences
Address – #34, first floor. Raipur kalan Chandigarh 160102
Phone: +91-9216599595
Email: biopharls@gmail.com