PCD Pharma Franchise in Chhattisgarh – ISO 9001:2008 certified top pharma franchise Biophar Lifesciences welcome you all. We are involved in the manufacturing, trading, marketing, and PCD business for pharma drugs. Biophar Lifesciences offer more than 400 formulations which are manufactured in the WHO and GMP certified production unit. The Company provides the high quality branded drugs in India and for export purpose as well. In order expand our business venture, we are offering our PCD Pharma Franchise in Chhattisgarh. 
The Company is continuously adding new distributors and franchise parts in this business venture by offering them the best opportunities. Pharma PCD Franchise business is undoubtedly growing well in India. It provides many growth opportunities and has a wide scope. People are becoming aware of health issues and want to get the best quality and effective branded drugs. PCD Pharma Franchise in Chhattisgarh by BiopharLifesciences is the best business opportunity for those who wanted to start their own business in the Pharmaceutical industry. Be you own boss with a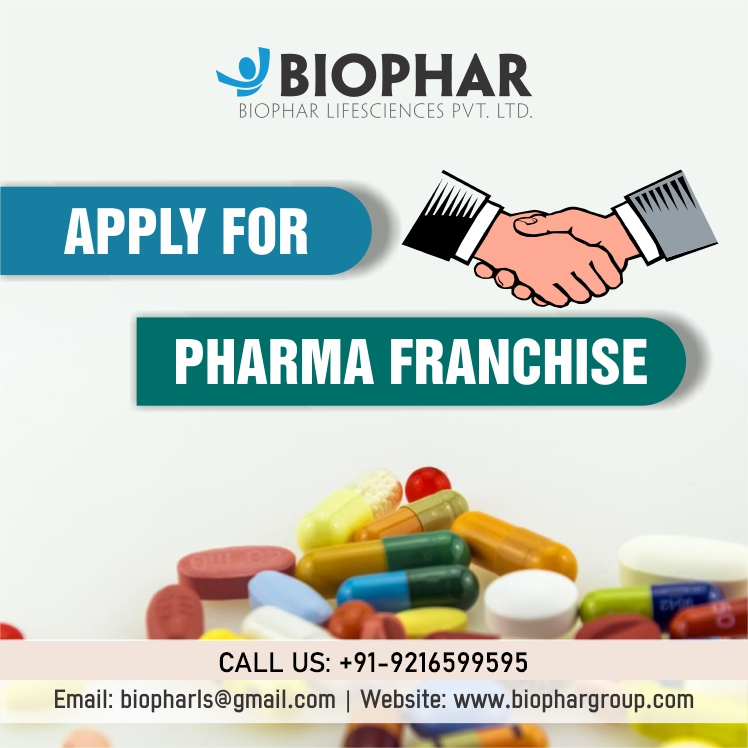 low investment.
Biophar Lifesciences 'Ethical PCD Pharma Franchise Company'
We are based in Chandigarh, Biophar Lifesciences deals best in the PCD or franchise business for pharma products. With the advanced infrastructure and high-tech machinery, the company is capable of producing its own API's and high-quality products. Biophar Lifesciences offers products which are bets in terms of effectiveness, quality, safety, and purity. Thus, our products are absolutely safe and come with lesser side effects. Here are few best things about Biophar Lifesciences:
High-quality formulations
Unique monopoly rights
World class services
Associate with the leading pharma franchise company for PCD Franchise business to get the best support and good return on your investment. Biophar Lifesciences provide the wide product range and all products are affordable. Not only this the company provide good profit margin to its associates which help them in earning good. The company makes all efforts to strengthen its partnership with its associates for better growth in the business and thus, works for the mutual benefits of both parties.
Our Target Location for Pharma PCD Franchise in Chhattisgarh
Biophar Lifesciences invites all the pharma professionals and entrepreneurs who are willing to start their own business in the pharmaceutical sector. The company is offering its PCD Pharma Franchise in all the vacant areas of the state which covers all the districts. We are offering the best business opportunity with all kind of support to our pharma franchise partner. Biophar Lifesciences provide the unique monopoly rights that help associates to do exceptionally well in their territory.
Here are our target locations for PCD Pharma Franchise in Chhattisgarh:
Kanker (Uttar Bastar)
Narayanpur.
Kondagaon.
Jagdalpur (Madhya Bastar)
Dantewada (Dakshin Bastar)
Bijapur.
Sukma.
Raipur and all other vacant regions
What makes Biophar the best Pharma Franchise Company for Associates?
Biophar Lifesciences is one renowned and trusted name in the pharmaceutical sector. The company has its associates in all regions of the state. All the products are manufactured keeping in mind about its effectiveness and quality. Our company provide the ethical business opportunity and ensure that associates get the best assistance to grow or establish their business in India. We deal transparently with all our associates in order to help them grow well.
Here are some more things that make us suitable for associates:
The products are manufactured in the WHO and GMP certified production unit which is excise duty free as well which makes our products affordable.
We provide unique rights to our associates.
All our products are manufactured under the check of our quality assurance team.
We provide good promotional and marketing backup to our associates.
Our Pharma Franchise partners are present all over the country and provide them all kind of support and assistance.
Biophar Lifesciences provides all kind of information about the latest development and launch in the industry.
 Eligibility Criteria To Get A Pharma Franchise
We are looking for the experts who want to can take the responsibility and keep up the brand value. If you are willing to start your own business by associating with the leading pharma company then this is the best opportunity for you. Qualities like dedication, passion, experience, and ability to sell will be appreciated.
Have a look at the eligibility criteria for the pharma franchise:
Experience of working in the pharma industry is required by the company.
You will be asked to provide the documents showing your experience of working like sales report.
A registered pharmacist under State Pharmacy Council can also apply.
A valid Drug License No. (D.L.) Number and Tax Identification Number (TIN) is compulsory.
Good contacts and network of doctors are intended.
Contact Information
Name –  Biophar Lifesciences
Address – #34, first floor. Raipur kalan Chandigarh 160102
Phone: +91-9216599595