PCD Pharma Franchise in Assam – Biophar Life Sciences is one of the top Pharma PCD Franchise companies in India. As ISO 9001:2008 Certified Pharma Company, Biophar Lifesciences is reputed for its range of high-quality formulation. The company offers the huge product range and all the products are manufactured in the GMP and WHO certified production unit. We are increasing our presence pan India and thus, offering our PCD Pharma Franchise in Assam.
We invite the Pharma experts and others who deal with pharma to associate with us and start their own business. Pharma Franchise business is very popular recently due to its massive growth and benefits that this business holds. Our PCD Pharma Franchise in Assam provides you the best opportunity to start your own business even with the low investments. Due to high demand for the branded and generic drugs in the market, this sector provides the huge benefits and scope for growth.
For more details regarding our PCD Pharma Franchise in any parts of the country. you can give us a call at +91-9216599595 or you can also drop us a mail at biopharls@gmail.com.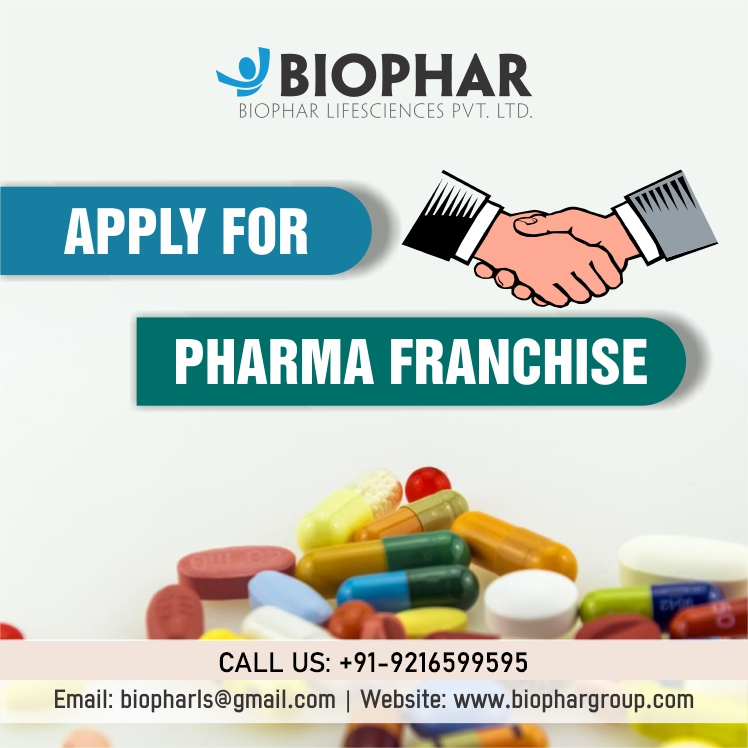 Top PCD Pharma Franchise Company – Biophar Lifesciences 
Biophar Lifesciences is a Chandigarh based Pharma Franchise in Assam that was established in the year 2008. Since then the company has grown well in the pharmaceutical sector and achieving great success. Biophar Lifesciences is a fully integrated pharma franchise in Assam supported by the best infrastructure and advanced technology. Mr. GULSHAN RAWAT is the managing director of the company with the rich experience of 15 years in the pharmaceutical sector; he is now leading us towards the better healthcare services.
We are entirely committed to our customers for ethical business practice and their requirements. The high quality of the products and the affordable prices are the prime motto of the Biophar Lifesciences. We have the team of highly qualified people and all R&D facilities that allow us to provide our partners with latest molecules. Biophar Life Sciences is considered as best for PCD Pharma Franchise in Assam a and reason for is as follows:
Unique and beneficial monopoly rights
A wide range of high-quality pharma products
Promotional inputs, medical updates and other benefits for our clients along with good business growth
Best support and services for PCD Franchise business
Extensive Product Range at Biophar Lifesciences for PCD Franchise Business
Biophar Lifesciences is indulged in exporting and supply of pharma formulations Pharmaceutical Tablet, Pharmaceutical Syrup, Pharmaceutical Capsule, Pharmaceutical Suspension, Pharmaceutical Injection, Pharmaceutical Sachet, Pharmaceutical Drop, Pharmaceutical Powder, Painkiller Oil and Painkiller Gel, and a lot more. These products are manufactured in the well-certified sites and thus are high in standards. We at Biophar Lifesciences make sure that our products reach the high parameters of quality, safety, and efficacy. The product portfolio is regularly updated by introducing the latest molecules from our experts. Be our franchise partner and get the best quality products and a good profit margin on all the profits.
Monopoly Rights for PCD Pharma Franchise Opportunity 
Since the company is looking for expanding its presence pan India, we are taking the help of M.R., ASM, RSM and others. We are looking for individuals who are keen to start their own business in the pharmaceutical sector. The investment for this could be small or large depending on your interest. We provide the monopoly rights on district base in every state. Pharma distributor, dealers, experts, wholesalers, stockist all is welcome to join this business venture and start own business. Our monopoly rights will help you well in getting good success in the pharmaceutical sector as it will lower the competition for you.
Marketing and promotional  Backup by Biophar for Franchise Business
The market is highly competitive and to help our associates to cope up with the increasing competition by providing them with the best promotional backup. This will help our associates to increase their sale by staying ahead of all their competition. Our PCD Pharma Franchise in Assam will get the best marketing assistance from our specialist. Associates will get the promotional kit that will include the promotional tools like visual ads, visiting cards, MR bags, brouchers, holdings and many other things.
Pharma Products Category
We manufacture the wide range of pharma products which are WHO & GMP certified.  Our products come with the lesser side effects and thus considered as safe.  Our formulations are manufactured by using high-quality raw material and thus its is pure. Here we are sharing a list for pharma Product Category
Tablets
Capsules
Injections
Cream
Dry Syrups
Eye Drops
Facewash
Lotion
Syrups
What are the Advantages of choosing Biophar Lifesciences for Pharma PCD business?
At Biophar Lifesciences, you will get the best support and help which will guide to establish a strong presence in the market. The company believes in the mutual growth and thus provide the best business opportunity. We are ethically involved in the pharma Franchise in Karnataka This is the reason that our associates trust us.
Here are some more advantages of choosing us:
Associates can start the business from low investment as well. There is no particular target or fix purchase rate. You can even invest from Rs. 10000/- to 20000/- initially.
All our products are delivered on time with the best packaging. Our products are executed within the 24 hours of order.
Our lucrative schemes on various targets can be the best chance for you to earn extra, as we offer good incentives on meeting targets.
The products are manufactured by using the best manufacturing techniques.
Our team provides all the answers for your queries like dispatches, new products introductions etc.
So what are you waiting for? Be the part of leading pharma company and start your own business in the pharma industry.
Eligibility Criteria for PCD Pharma Franchise member 
For starting your own business in the pharmaceutical sector, there are certain things or say the requirements that must be full filled. For selling any kind of drugs you will be needing an authorization from the government or from the authorities. Those you are new in this sector need to know about this.
The following are the terms and conditions to become an eligible candidate for being our member for PCD Pharma Franchise in Assam.
A minimum experience of3- 5 years from a reputed Pharma company,
Selection through an interview.
Distributers/ Medical representatives/ /Wholesalers/Retailers can apply.
A network of 5-6 good practicing doctors.
A copy of original sales track report needed to submit,
An investment of minimum 3-5 lakhs. Bigger the investment, better the return on vestment.
The compulsion to own Drug License No. (D.L.) Number and Tax Identification Number (TIN) which should be a valid drug license, if you do not have or has expired, we request you to apply as soon as possible.
If you are planning to connect with any pharma firm then we will recommend you to join hands with the top Pharma Franchise in Assam and our company would be the ideal choice for any pharma professionals, who want to try their hands in this paritucular drug range.
Contact Information
Name –  Biophar Lifesciences
Address – #34, first floor. Raipur kalan Chandigarh 160102
Phone: +91-9216599595
Email: biopharls@gmail.com