PCD Pharma Franchise in Kerala – Biophar Lifesciences welcomes you to the top pharma franchise company in India. Biophar Lifesciences is a leading manufacturer and supplier of generic drugs in India. We are involved in the marketing, third-party manufacturing, and PCD business as well. Biophar Lifesciences is ISO 9001:2008 certified pharma franchise company that provide the wide range of advanced and high-quality formulations with the good profit margin. Biophar Lifesciences is offering its PCD Pharma franchise in Kerala under its expansion plan in south India.
Pharma Franchise business comes with a number of benefits and thus, has huge scope in India. The demand for the generic drugs is high and many professionals are utilizing this opportunity to start their own business. The government is also encouraging investment in this sector so that people could get the access to affordable high-quality drugs. PCD Pharma Franchise in Kerala is a great business opportunity to start your own business with low investment by associating with top Pharma Franchise Company. Our Franchise partners will get the necessary assistance and support from our team.
Feel free to connect with the experts at Biophar Lifesciences to know more about this franchise in Kerala for PCD Pharma. Get our product price list today and also know about all the vacant location in your region. Dail our number +91-9216599595 and be your own boss.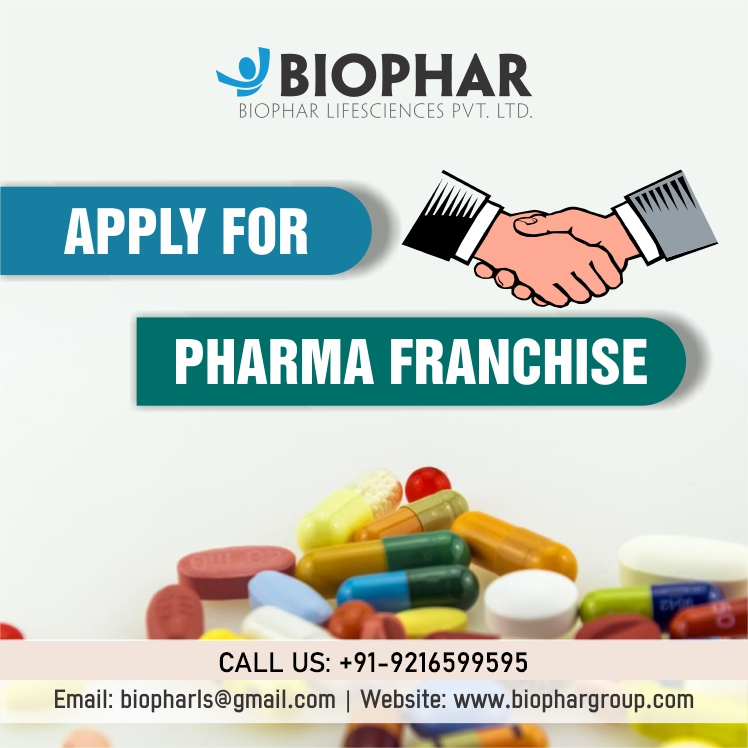 Top Pharma Franchise Company in India – Biophar Lifesciences 
Established in 2008, the Chandigarh-based pharma franchise company Biophar has good experience in the pharma industry. The company has the best infrastructure, state-of-art manufacturing facilities and offer high-quality formulations. The drugs that we offer are high in quality as they are manufactured in the well certified and production unit under the strict observation of quality management team. The company ensures to provide the new and innovative drugs in regularly according to the industrial requirements.
Our research and development team make sure to provide the advanced and effective formulations to our customers. The company has won the trust of many hospitals and health professional in India with its advanced drugs. We have a team of experts who are professional, highly qualified and experience in their work. Join our business venture and start your own growing business in the industry.
Target Locations for PCD Pharma Franchise in Kerala
Biophar Lifesciences provides you chance to be your own boss by offering its PCD Pharma Franchise in Kerala. We invite all the pharma distributors, medical representative, stockist and entrepreneur to be our pharma franchise partner and to own the growing business. If you are looking forward to earning more in this industry then this is the best opportunity for you. The company is offering its franchise in all the districts of Kerala with the distribution and monopoly rights or your growth benefits.
Here are our target locations for PCD Pharma Franchise:
Thiruvananthapuram
Kollam
Pathanamthitta
Alappuzha
Kottayam
Idukki
Ernakulam
Thrissur
Palakkad
Malappuram
Kozhikode
Wayanad
Kannur Kasaragod
We are looking for the hardworking and dedicated professionals who can take the responsibility of our brand. If you think you have these qualities then this is the best opportunity for you. Biophar Lifesciences is covering all the vacant location in Kerala and offering best business services and facilities for Franchise business.
Benefits of investing in PCD Pharma Franchise Business
PCD Pharma franchise business in quite popular in India. It is a bridge between the pharma companies and customers. The demand for the generic drug is high in the industry and pharma franchise in the best source to provide them to the customers. The pharmaceutical industry is expected to grow by 15% by the end of 2020whichis huge and pharma franchise business will get good benefits out of it.
Here are the benefits of investing in pharma franchise business:
This business provides you an opportunity to work under no pressure. You do not have to report to anybody and this makes your own boss.
By investment in Pharma Franchise business, you can work in your own city, unlike other pharma jobs.
This business requires low investment and thus the risk involved is also low in pharma franchise.
You do not have to spend anything on the marketing and promotions. The pharma company provides the promotional backup free of cost in PCD business.
There are many other benefits that you would get is associated with our company. We also provide 100% customers support until they would not get all the success.
Why choose Biophar Lifesciences for PCD Pharma Franchise business?
Biophar Lifesciences is a reliable and trusted name in the pharma industry for PCD business. We offer the huge range of high-quality affordable drugs all over the country. We are engaged in the ethical business practices and have transparency in our dealing. The company provides the best support to all its associates in order to help them grow well in this industry.
Here are the advantages of choosing us for PCD Pharma Franchise business:
Biophar has its own production and warehouse that reduces the cost of production
Manufacturing takes place in the excise duty-free area and thus prices are affordable for our products.
All the products are delivered on time as the company has good transportation network across the country.
Products come with the best packaging for long shelve life
We provide good monopoly rights as well.
Our product portfolio contains the products like Tablet, Syrup, Capsule, Suspension, Injection, Sachet, Drop, Powder, Oil and Painkiller Gel.
Here are the contact details of our company through which you can contact us any time without any hesitation.
Contact Information
Name –  Biophar Lifesciences
Address – #34, first floor. Raipur Kalan Chandigarh 160102
Phone: +91-9216599595