PCD Pharma Franchise in Meghalaya – Pharma Franchise business is booming exponentially in India. Top Pharma Companies are now offering its PCD Pharma Franchise to pharma professionals under their marketing planning. This is not only the good business venture for the companies but also for the pharma professionals, who were looking forward to starting their business in Pharmaceuticals. Biophar Lifesciences is one among top Pharma Franchise company offering its PCD Pharma Franchise in Meghalaya. 
Based in Chandigarh, Biophar Lifesciences is known for its wide range of high-quality pharma products that covers the wide health segments. Our products are produced in the Good Manufacturing Practice (GMP) and World Health Organisation (WHO) certified production unit. Biophar Lifesciences is ISO 9001:2008 certified pharma franchise company and offers more than 400 formulations. Our PCD Pharma Franchise in Meghalaya is the best opportunity for the pharma professional to have their own business in pharmaceuticals by associating with leading pharma franchise with low investments.
Contact us today at and get our product List. Biophar Lifesciences welcome you to be the part of top PCD Pharma Franchise  Company.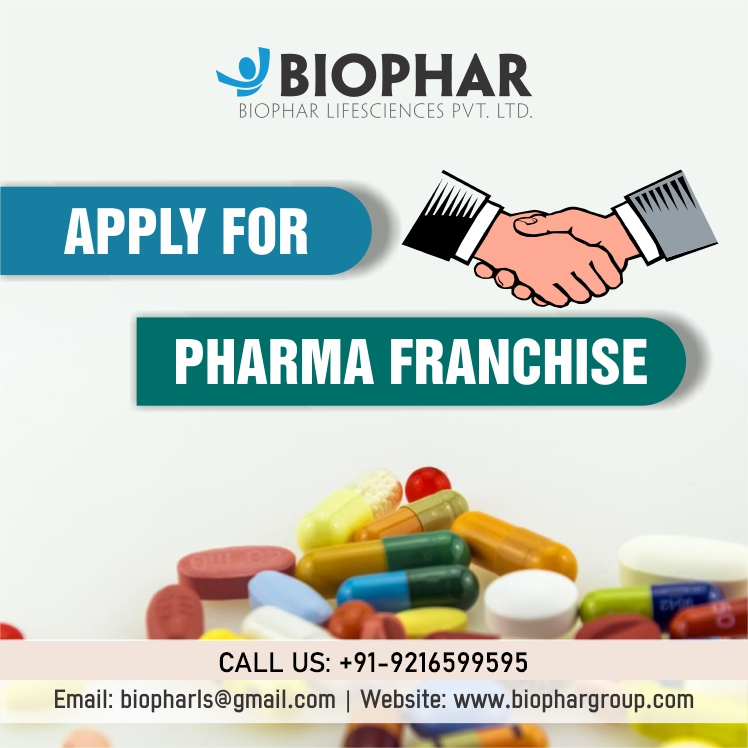 Biophar Lifesciences – Leading Pharma Franchise Company in India
Biophar Lifesciences is a prominent name in Pharmaceutical sector. We have made our significant position in the market in a very short span of time. Biophar is rapidly growing and associates will get good benefits because of this. The company is backed up with its wide product range that covers the products categories like Injectable, Tablets, Capsules, Soft Gelatin Capsules, Oral Liquid (Syrup & Suspension), Oral Dry Syrup, External Liquids, Ointments, Creams, Betalactum Products, General Products ,Nutraceuticals, Soaps, Shampoo, Eye Drops, Ear Drops , Oral Sachets & Powders , External Powder etc.
We have state-of-art manufacturing facilities, equipped with the latest machinery and technology. Our products are high in quality standards and available at affordable prices. We have the team of highly qualified and experienced staff and experts. The company introduces new and innovative products on regular basis according to the industrial requirements. Our customers and associates will get the exceptional service from our end to establish their business in a better way.
Get Best PCD Pharma Franchise Business Opportunity in Meghalaya
Meghalaya is a state with the population of more than 3,211,000 people. It shares a border with Bangladesh by West and states of Assam by North and East. Meghalaya has 11 districts and healthcare sector of the state is constantly improving. People are getting aware of the health and thus, excepting the pharmaceutical products with the high quality. Thus, the scope for the PCD Pharma Franchise in Meghalaya is quite good. This business opportunity is absolutely beneficial for the pharma professionals to start their own business.
We invite all the pharma distributors, medical representatives, pharma experts, stockist and other to be our business partner in Meghalaya. Associate with us and start your own business in pharmaceuticals and work freely with us and get the best range of pharma products. All our products are highly recommended by the health professionals and pharma experts. We offer the best assistance and support to our pharma franchise associates in order to provide them the mutual benefits and growth opportunity.
Our Target Locations for Pharma Franchise in Meghalaya
Biophar Lifesciences is offering its PCD Pharma Franchise in all the vacant districts of the state along wIth best monopoly rights. This will allow you to work freely with less competition in your area. Biophar Lifesciences will provide all kind of support and assistance to help you in establishing your business.
Here is the list of target locations for PCD Pharma Franchise Business:
Jaintia Hills Division:
West Jaintia Hills (Jowai)
East Jaintia Hills (Khliehriat)
Khasi Hills Division:
East Khasi Hills (Shillong)
West Khasi Hills (Nongstoin)
South West Khasi Hills (Mawkyrwat)
Ri-Bhoi (Nongpoh)
Garo Hills Division:
North Garo Hills (Resubelpara)
East Garo Hills (Williamnagar)
South Garo Hills (Baghmara)
West Garo Hills (Tura)
South West Garo Hills (Ampati)
Benefits of Choosing us For Pharma Franchise Business
Biophar Lifesciences is the first choice for the pharma professionals when it comes to PCD Pharma Franchise Business. We provide the best and ethical business opportunity and deal transparently with all our associates. The Company ensures that our associates get the wide range if high-quality products with the best profit margin. The company has good customer base and brand image which is again beneficial for the associates.
Apart from this, here are some more benefits of associating with Biophar Lifesciences:'
Our products come with the best quality packaging.
The products are delivered on time with the best quality.
All the manufacturing take place in certified production site
Associates will get the new and innovative products on regular bases.
Contact Information
Name –  Biophar Lifesciences
Address – #34, first floor. Raipur kalan Chandigarh 160102
Phone: +91-9216599595